Engine mounts.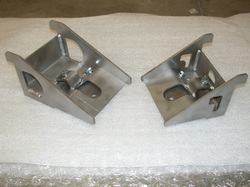 Our massive frame mounts are constructed from 1/4" steel. Each mount consists of 5 precision water jet cut parts which are welded together to form a nearly indestructible mount.
Our frame mounts accept the correct GM hydraulic engine
mounts designed for your engine. Many hours were spent designing these mounts so they place the LS engine in the correct position; special attention was paid to the angle and loading of these mounts so you get maximum strength and comfort.
Do not settle for hard rubber mounts in your JK, hard rubber mounts allow unnecessary vibrations and harmonic resonances
to enter the chassis and cab. With our LS-JK mounts there are no unwanted vibrations, even if your engine has a 4 cylinder mode. Your JK will run smoother than it did from Jeep.
In addition the design of these mounts allow for easy placement and welding. Any LS engine you choose from the 5.3 liter AFM engine to the
powerful VVT 6.2 liter LS3 will benefit from these frame mounts.
---