Transmission Mount set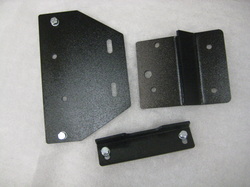 Our transmission mount set is made from heavy 1/4" steel plate. The simple triangulated design is very strong and requires no welding.
Added adjustment allows the use of most 4 and 6 speed automatic GM transmissions. Uses the standard GM 4wd rubber transmission mount for years of trouble free operation.
These mounts were designed to be used with your stock skid plates; both behind and in front of your cross member.
---